Kenneth Douglas
B.A., LL.B
Lawyer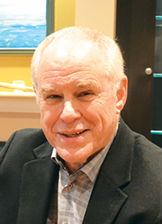 I originally grew up in Toronto and discovered Niagara while attending Brock University. I earned my law degree in 1971 and was called to the Bar in 1973. I initially practiced in Niagara Falls in various legal associations and subsequently moved my practice to St. Catharines in 1980 to become partner in the law firm of Bench Keogh. When this venerable firm ultimately dissolved, myself and two partners restructured ourselves as Douglas, Stewart & Morningstar (now Douglas Legal Services).
I am a practitioner of alternate dispute resolution, utilizing Collaborative Law, and I am also a litigator. My primary areas of law are family law, residential and commercial real estate, commercial and business law, and wills & estates.
I have practiced law for 40 years. I have been involved in numerous trials at all court levels from the Provincial Family Court through the Superior Courts, up to and including the Court of Appeal. However, my underlying philosophy is to attempt to find "interest based" solutions and assist my clients in the least intrusive way and as economically as possible.
Company
Douglas Legal Services
Contact Information
51 Queen Street
St. Catharines, ON
L2R 5G8

Tel: 905-641-1902
Fax: 905-641-1866
Email
Website