Marlene J. VanderSpek
B.A. (Hons.), LL.B., B.C.L.
Lawyer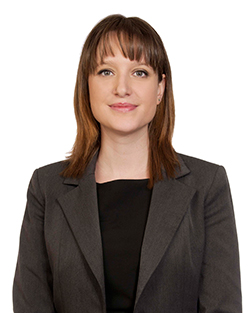 Collaborative Law is a process that allows clients to design their own creative solutions to their family law problems. Working with a collaborative law team allows clients to have more control over their family's future following the breakdown of a relationship, as opposed to having a decision imposed by a judge. I strongly believe that working with a collaborative family law team leads to more cost-effective outcomes for clients, as face-to-face meetings typically lead to more durable solutions for all parties involved.
Marlene received her Bachelor of Laws and Bachelor of Civil Law from McGill University in Montreal in 2012 and was called to the Bar in Ontario in January, 2013. Before attending McGill, Marlene obtained an Honours degree in International Relations and French from Calvin College in Grand Rapids, Michigan.
Marlene is an active member of the family law bar in St. Catharines. Although the majority of Marlene's practice is litigation based, Marlene actively encourages collaborative law with her clients.
Company
Marlene J. VanderSpek, Barrister & Solicitor
Contact Information
55 King Street, Suite 403
St. Catharines, ON L2R 3H5

Tel: 905-397-4431
Fax: 905-397-8302

Email
Website